The Rainbow Rose Center Preferred Partner Program is designed to connect our supporters, allies, and the York LGBTQIA+ community with local, likeminded consumer businesses and organizations.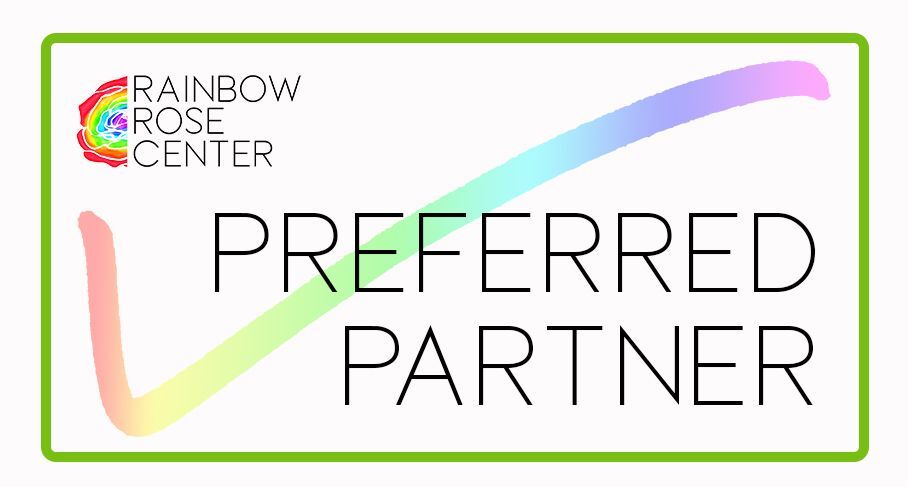 Look for this decal at businesses throughout York County to support and to feel safe at!
These dedicated and Preferred Partners really stand behind their pledge to support the LGBTQIA+ community.
Beth McKinley at Thrivent

Beth McKinley at Thrivent recognizes that a financial strategy is as unique as you are. You deserve guidance that you feel confident and that reflects your priorities. That is why Beth takes time to learn what matters most to you. And because Thrivent sees money as a tool, not a goal, Beth will equip you with what you need to focus on your life's purpose by providing the support and resources you need to prioritize what's meaningful to you.

Family First Health

Family First Health is a federally-qualified health center (FQHC) that is accessible and community-minded. They take a beyond healthy approach that goes outside the confines of the doctor's office. As an inclusive health care model, they put everyone first and want happy, healthy patients who can live better lives in better health. FFH strives to build a healthy community by being the accessible York community health center. Their services include primary medicine, dentistry, optometry, behavioral health services, substance use services, and community health programs like Caring Together, a program focused on supporting the overall health needs of persons living with HIV.

WEBSITE
FACEBOOK
INSTAGRAM
TWITTER

 

Kinetic Kreations

Kinetic Kreations is the mastermind behind the deliciously interactive snow cones that make you the hamster! A family-owned and operated business, their generosity of time and services at our events over the years have been so appreciated. We love their human powered frozen treats and encourage you to bring them to your next event!

Fresh Start Law, PLLC

Fresh Start Law, PLLC is a full-service law firm in South Central Pennsylvania. They concentrate in the areas of bankruptcy, pardons, expungements, and criminal defense. Fresh Start Law, PLLC is owned by Dawn Marie Cutaia (she/her), who has been practicing law in York County since 1996 and supporting the LGBTQIA+ community for many years. We're looking forward to working with Fresh Start Law, PLLC to help support the legal needs of our community.

Heidelberg United Church of Christ

Heidelberg United Church of Christ is a radically inclusive, unabashedly progressive, extravagantly welcoming congregation in downtown York City. A place to experience the Sacred, to explore your passion for social justice and spirituality, and to create community with others who follow the way of Jesus Christ. They are theologically progressive, welcoming and inclusive to people of every ethnicity, nationality, ability, gender, age, sexual orientation, economic status, and family type. They care about and are deeply committed to vital ministry in York City.

Dover United Church of Christ

At Dover United Church of Christ we are gathered in joyful community as children of God and brothers and sisters in Christ, we commit ourselves to the hearing, believing and doing of God's Word, shaping our lives by supporting one another, worshiping God, promoting justice and spreading the Gospel.

YWCA York

YWCA York is on a mission to eliminate racism, empower women, and promote peace, justice, freedom and dignity FOR ALL. What's super exciting to our community is that they are a gender inclusive YWCA and are eager to work with the gender non-conforming community to provide services, including shelters, therapy, and more!

White Rose Bar and Grill

White Rose Bar and Grill has been serving the community of downtown York for over 85 years now. We enjoy making our guests smile day in and day out. So when people come to White Rose, it is important to us that they feel safe and at home regardless of their race, ethnicity, religious beliefs, sexual orientation or identity. White Rose celebrates the individuality that makes our guests so beautifully unique.

The Left Bank Restaurant and Bar

The Left Bank works through culinary collaboration to bring food and dining experiences that nourish and nurture people and planet.  Exploring new ideas in flavor and sourcing, they work with local and regional purveyors, farmers and producers to responsibly source food that invests in our community.

The Cantina & Aviano's Trattoria

The Cantina & Aviano's Trattoria offer a great space in the heart of Royal Square for delicious dining in a safe and welcoming environment. The Cantina's green space offers plenty of beer, margaritas, and fun food with a beautiful space to sit outside and relax. Aviano's Corner Trattoria & Bar is a new neighborhood family joint for wood fired pizza, pasta, paninis, and more that pays homage to 4 generations of restaurant owners in Toni Calderone's family starting with the first pizzeria in York County.

Appell Center for the Performing Arts

Appell Center for the Performing Arts inspires, educates, and entertains through professional performing arts experiences that bring together York County's diverse voices. As a public gathering place for our brilliantly diverse community, the Appell Center sees it as their top priority to ensure that all of our patrons, performers, staff and guests feel welcome – regardless of age, gender, ethnicity, race, religion, or sexual orientation. The performing arts are designed to unite everyone in shared experiences and expand all of our horizons. Filling their two historic theaters – the Strand Theatre built in 1925 and the Capitol Theatre built in 1906 – houses with those of diverse backgrounds and perspectives makes their entire organization stronger.

Handsome Cab

The Handsome Cab is a gay owned restaurant and wine bar located in downtown York City, the perfect spot to travel the world by food, by art, and by glass. A beautiful place for the relaxed, easy going, and harmonious members of the York, Pennsylvania community. The Handsome Cab combines wonderful style, sophistication, and genuine hospitality to create a truly unique experience. 

The Handsome Cab is looking forward to hosting Fundraising Events and Pride Activities throughout the month of June! Check out their social media, and the Rainbow Rose Center, for additional details soon.

York Jewish Community Center

The York Jewish Community Center (JCC) isn't just "a gym." They are so much more. They are a community. When you join the J, you join a place created for our members and the needs they have, whether that be fitness, educational, or cultural. They provide a supportive, inclusive environment that many of our members call "a home away from home." At the York JCC, you belong. Everyone is welcome.

York JCC is excited to host the second annual Pancakes for Pride event on June 6, 2021! Check out their social media, and the Rainbow Rose Center, for additional details soon.

Unitarian Universalist Congregation of York

Since 1955, the Unitarian Universalist Congregation of York (UUCY) has offered a religious experience based on freedom, reason, tolerance, and compassion. This on-going process is filled with reverence and responsibility to individuals and community in a spirit of love. This process continually brings with it an enduring hope for the future. Notwithstanding change over the years, the founding principles of this congregation continue to offer hope and support to those on their own religious spiritual journey.

Through action and partnership, the UUCY makes a commitment to welcoming and affirming individuals and families of all sexual orientations and gender identities.

Opera Susquehanna, Inc

Opera Susquehanna, Inc brings world class music to South Central Pennsylvania. Headquartered in Gettysburg, we are committed to musical entertainment, education, and edification for adults and children throughout the region.​

We also empower singers through lessons, workshops, masterclasses, operatic productions, and similar opportunities to to enhance success in their careers. 

Union Lutheran

We at Union Lutheran Church believes that we are called to share the good news of Jesus with our neighbors, as we grow together in Christ. We welcome everyone seeking God's love and grace to participate fully no matter what you look like, where you're from, whom you love, how much money you have, or whatever other labels we use to divide ourselves. We welcome all gender identities, gender expressions, sexual orientations, ages, races, abilities, and socio-economic statuses, because God welcomes all, and our unity is in Jesus Christ.

York Revolution

York Revolution, the most welcoming place in York, values every customer regardless of race, ethnicity, religion, sexual orientation, age, disability, or any other characteristic.  Every employee is empowered to make best day evers!  We educate our employees to help them understand and utilize words and actions that support this attitude and avoid those that contradict it and we address any behavior from employees or fans that is contrary to this goal.

Proud host of York's Pride Night at the Ballpark. Check out their social media, and the Rainbow Rose Center, for additional details soon.