The tobacco industry has historically targeted LGBTQIA+ communities, using strategies like marketing at Pride festivals and advertising in LGBTQIA+ publications to promote tobacco use among LGBTQIA+ people. This legacy of aggressive marketing by tobacco companies has had a serious impact, contributing to higher rates of tobacco use in the LGBTQ community.
Prioritizing the health and safety of the LGBTQIA+ community means acknowledging the risks and then confronting them. The Rainbow Rose Center is partnering with York Cessation Programs, WellSpan Health, and American Lung Association to provide tobacco cessation, education, and support to LGBTQIA+ individuals, and particularly youth, in York County.
Per the Centers for Disease Control and Prevention...

Tobacco usage among LGBTQIA+ individuals in the U.S. is higher than among heterosexual/straight individuals. Tobacco usage includes cigarettes, cigars/cigarillos, electronic cigarettes and other vaping devices, hookah, smokeless tobacco such as snu and chewing tobacco, and other tobacco products. About 1 in 5 LGBTQIA+ adults smoke or vape compared with about 1 in 6 heterosexual/straight individuals.
 

In York County alone...

1 in 4 LGBTQIA+ individuals currently smoke cigarettes and 1 in 3 currently vape. Overall, nearly 50% (42.7%) of York County LGBTQIA+ individuals have used tobacco products, and over 53% of youth have tried a tobacco product. Particularly vulnerable groups to tobacco use in York County include gender diverse individuals, bisexual and pansexual individuals, youth under 25 years of age, and people of color. 

2022 PA LGBT+ Health Needs Assessment Survey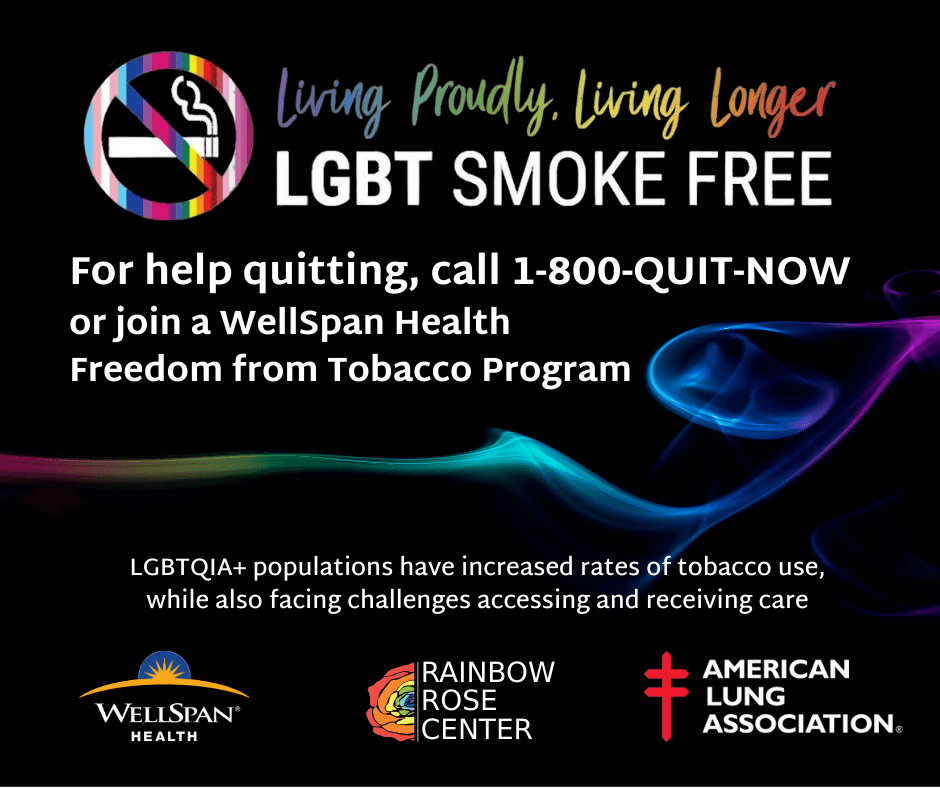 Tobacco Cessation Program
The Rainbow Rose Center is honored to partner with WellSpan Health's Freedom from Tobacco program to help the LGBTQIA+ community quit. WellSpan Health offers regular group cessation classes, one-on-one counseling, and additional support. Find out more and register today!
If you need information on smoking cessation or are interested in quitting, you can also contact the Pennsylvania Quitline at 1-800-QUIT-NOW.
Have additional questions or need support? Contact the Rainbow Rose Center Programs Committee at programs@rainbowrosecenter.org.
Tobacco Resistance Unit
The Tobacco Resistance Unit (TRU) is a movement in Pennsylvania to provide training to youth ages 12 to 18 to help them stay tobacco- and nicotine-free. The TRU program focuses on teaching teens and helping them to pass their knowledge onto their peers.
Rainbow Rose Center is developing an LGBTQIA+ region chapter of TRU to advocate for stronger tobacco control policies in Pennsylvania and to promote youth empowerment. The goal, to decrease the obvious smoking- and vaping-related health disparities for LGBTQIA+ youth.